Cursor
Cursor is a tool designed to assist editors of Cursus mixtus texts, which are characterized by an intricate prose rhythm system used in highbrow prose during a limited period at the end of antiquity. Cursor automates the detection of prosodical patterns and visualizes them. Cursor is free of charge.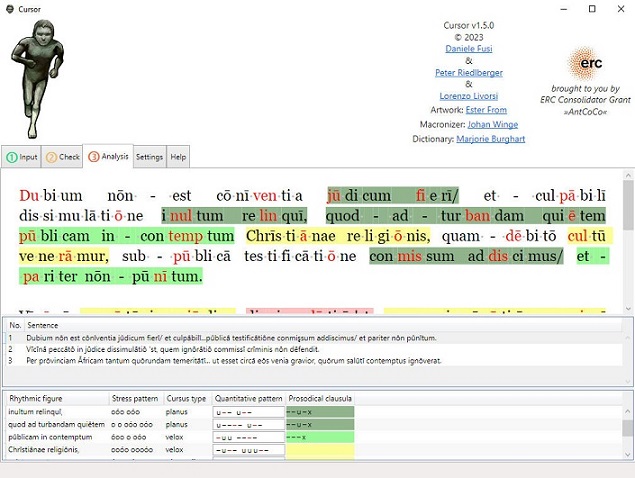 Downloads
Cursor V1.5.0 for Microsoft Windows (Windows Defender SmartScreen might complain, in Windows 10 click More Information)
License
Cursor is free of charge. For the exact license, refer to the installation file. Most importantly, there is no warranty or liability whatsoever.
The creators of Cursor
Daniele Fusi is a Digital Humanities scholar mainly focused on digital text, and a professional full-stack software developer with decades of experience in specialized software solutions.
Lorenzo Livorsi is an SNS-educated Classicist working at the University of Bamberg. Among his many fields of interests and competencies, late antique prose rhythm occupies an important position.
Peter Riedlberger is a classicist and IT aficionado. He's interested in late antique legislation and the Acts of Ecumenical Councils, among other things.
This project has received funding from the European Research Council (ERC) under the European Union's Horizon 2020 research and innovation programme (grant agreement No. 101001991).